Item Details
Liquid Cooling - EKWB Supremacy EVO (Original CSQ) CPU Block
PHP 3000.00
ALREADY USED with PERSONAL WARRANTY
For Sale:
Liquid Cooling - EKWB Supremacy EVO (Original CSQ) CPU Block
-1pc EK-Supremacy EVO (Original CSQ) CPU Block
Includes backplate for AM4 / AMD Socket (754, 939, 940, AM2(+), AM3(+),FM2(+)) / Intel LGA-1150/1151/1155/1156 / Intel LGA-2066 /Intel LGA-2011(-3)
-EK-Supremacy EVO is a universal CPU water block that fits all modern CPU sockets with a universal mounting mechanism that offers error-preventing, tool-less installation.
The result is a perfect installation which results in optimal performance every time. EK-Supremacy EVO is truly the only product for performance seeking enthusiasts.
The key features are:
- unmatched thermal performance - more than 2.2°C better performance on most popular LGA-1150 & LGA-2011 processors.
- very high-flow design - low hydraulic restricion allows this product to be used in setups using weaker water pumps.
- modular design - using various inserts and jets the performance can be further fine-tuned to unleash maximum performance by ensuring the optimal contact with the CPU integrated heat spreader (IHS).
-This is a
copper
based CPU Block, hence DO NOT mix it with aluminum parts.
Compatibility
is
buyer's responsibility
.
-
Brand New
and
Sealed Item
. Never been used.
-
10
/10 condition, you are basically buying brand new at USED price.
-
7days
personal warranty
-You can check item in EKWB Website -> https://www.ekwb.com/shop/ek-supremacy-evo-original-csq OR search SKU 3831109800126
-Price is
FIRM
RFS: Change in priorities, down sizing
Images: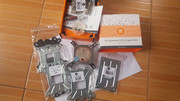 <click here for link>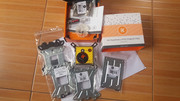 <click here for link>
READ and UNDERSTAND:
1. I have the right to whom i will sell my items.
2. Compatibility is buyer's responsibility.
3. I'll answer inquries via PM. I'll provide my number once we could agree on a deal.
4. Posted Price is FIRM.
5. Item is for sale. I'll indicate otherwise if I'm open for swap.
6. Payment will be cash basis.
7. Meetup points:
___7a. Weekdays - Mckinley Hill - late night or afternoon (depends on my shift)
___7b. Weekends - Cainta (Sta. Lucia/Robinson MetroEast/Tropical Hut), Marikina (Marquinton)
8. Item could be shipped at buyer's expense. We can arrange for LBC's pay on pickup/delivery.
9. Post will be updated once item is SOLD.
10. Thank you for reading through the list. Cheers!