Item Details
Video card palit geforce® RTX2070 Gaming Pro OC 8gb 256bit gddr6
PHP 26000.00
BRAND NEW with SHOP WARRANTY
<click here for link>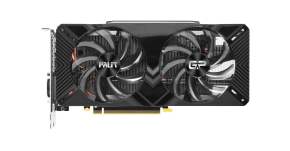 1 year carry-in warranty only
Product Descriptions:
The powerful new GeForce RTX™ 2070 takes advantage of the cutting-edge NVIDIA Turing architecture to immerse you in incredible realism and performance in the latest games. The future of gaming starts here.
VR Ready
Experience next-generation VR performance, the lowest latency, and plug-and-play compatibility with leading headsets-driven by NVIDIA VRWorks™ technologies. VR audio, physics, and haptics let you hear and feel every moment.
NVIDIA ANSEL IN VR
Capture and create in-game screenshots that can be viewed in 360 degrees. Compose your screenshots from any position, adjust them with post-process filters, capture 4K HDR images in high-fidelity formats, and share them in 360 degrees using your mobile phone, PC, or VR headset.
Dual Fan
A Dual Fan design offers double the cooling performance, and combined with the 9CM-9CM Smart Fans, heat is effectively drawn away from hot spots.
Copper Base
The large copper base design directly adhered with GPU and heatpipes, can dissipate the heat efficiently from the GPU.
to visit manufacturer website
<click here for link>
Prices:

Video card palit geforce® RTX2070 Gaming Pro OC 8gb 256bit gddr6

P 30,000.00 - On Sale @ P 26,000.00 only



Reminders:
1. While we make every effort to ensure consistency, our prices and stock availability may vary. You may contact us for any inquiry on items posted.
2. Visiting our office without prior confirmation is at buyer's risk.
3. Please note that provided manufacturers site links & images are for reference only.
4. Please check this link for our updated pricelist <click here for link>

Sales 1:
acm_tech01 for Yahoo Messenger <click here for link>
acm_tech01 for Skype User <click here for link>
09228224940 for Viber User <click here for link>
09228224940 for Sun Cellular
09158974940 for Globe Lines

Sales 2:
acm_tech02 for Yahoo Messenger <click here for link>
acm_tech02 for Skype User <click here for link>
09253226226 for Viber User <click here for link>
09253226226 for Sun Cellular
Click to see our other Items:
<click here for link>