Item Details
Liquid Cooling - EKWB Compression Fittings 10/16mm (3/8"-5/8")
PHP 250.00
ALREADY USED with PERSONAL WARRANTY
For Sale:
Liquid Cooling - EKWB Compression Fittings 10/16mm (3/8"-5/8")
-6pcs of Nickel 10/16mm (3/8"-5/8") PER PACK (total of
6 pcs
compression fittings)
-
P250 per piece
hence will sell per 6-pack at
P1,500
-The 6-pack EK-ACF Fitting (Advanced Compression Fitting) is a soft-tube compression fitting pack, they are designed for use with flexible soft tubings such as PVC, EPDM, Norprene, silicone or any other type of compatible flexible tube.
EK-ACF Fitting is a more secure variant of the tubing fitting connector as the locking ring prevents flexible tube to be pulled out of the fitting by compressing the tubing wall underneath the ring.
Such fitting does not require any hose clamp or similar substitute.
The barb and the ring are made of nickel-plated CNC machined brass.
Fittings feature quality rubber O-rings.
-You can check item in EKWB Website -> https://www.ekwb.com/shop/ek-acf-fitting-10-16mm-nickel-6-pack OR search SKU 3830046992437
-This is
nickel
based Compression Fittings, hence DO NOT mix it with aluminum parts.
Compatibility
is
buyer's responsibility
.
-
Brand New
. Never been used.
-
10
/10 condition, you are basically buying brand new at USED price.
-
7days
personal warranty
-Price is
FIRM
RFS: Change in priorities, down sizing
Images: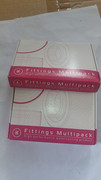 <click here for link>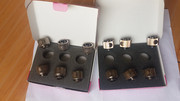 <click here for link>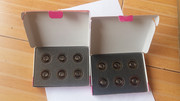 <click here for link>
READ and UNDERSTAND:
1. I have the right to whom i will sell my items.
2. Compatibility is buyer's responsibility.
3. I'll answer inquries via PM. I'll provide my number once we could agree on a deal.
4. Posted Price is FIRM.
5. Item is for sale. I'll indicate otherwise if I'm open for swap.
6. Payment will be cash basis.
7. Meetup points:
___7a. Weekdays - Mckinley Hill - late night or afternoon (depends on my shift)
___7b. Weekends - Cainta (Sta. Lucia/Robinson MetroEast/Tropical Hut), Marikina (Marquinton)
8. Item could be shipped at buyer's expense. We can arrange for LBC's pay on pickup/delivery.
9. Post will be updated once item is SOLD.
10. Thank you for reading through the list. Cheers!