Item Details
Network tp-link tl-sg1008mp 8-port gigabit desktop rackmount switch with poe+
PHP 6000.00
BRAND NEW with SHOP WARRANTY
<click here for link>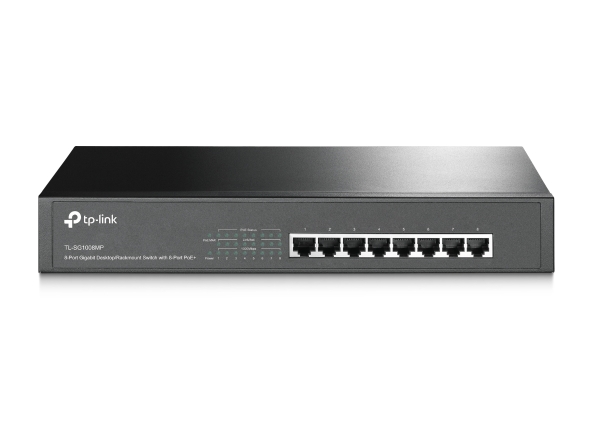 1 year carry-in warranty only
Product Descriptions:
The TL-SG1008MP is an 8-Port Gigabit Desktop/Rack mountable Switch with all 8 ports supporting the IEEE 802.3af/at, PoE+ standard. It provides a simple way to expand a wired network by transferring power and data over a single Ethernet Cable. With a total power budget of 153W, up to 30W per port, TL-SG1008MP can power more high-powered devices such as wireless Access Points (APs), IP Cameras or IP Phones. Moreover, with innovative energy-efficient technology reduces power consumption, making it an eco-friendly solution for your business network.
All 8 ports of TL-SG1008MP support Power over Ethernet (IEEE 802.3af/at, PoE+) standard which can automatically detect and supply power to any IEEE 802.3af/at compliant device(s). The electrical power is transmitted along with data in a single cable, allowing you to expand your network where there is no electrical outlet, and feed the devices such as wireless APs, cameras, and phones.
to visit manufacturer website
<click here for link>
Prices:

Network tp-link tl-sg1008mp 8-port gigabit desktop rackmount switch with poe+

P 6,000.00 only



stock code - z6eem8zp

Reminders:
1. While we make every effort to ensure consistency, our prices and stock availability may vary. You may contact us for any inquiry on items posted.
2. Visiting our office without prior confirmation is at buyer's risk.
3. Please note that provided manufacturers site links & images are for reference only.
4. Please check this link for our updated pricelist <click here for link>

ACM Sales
acmtechnologies.net for Facebook Messenger <click here for link>
ACM_Sales01 for Skype User <click here for link>
09666431424 for Viber User <click here for link>
09228224942 - Sun Cellular
09666431424 - Globe

Sales/Tech 1:
acm_tech01 for Skype User <click here for link>
09228224940 for Viber User <click here for link>
09228224940 - Sun Cellular
09158974940 - Globe

Sales/Tech 2:
acm_tech02 for Skype User <click here for link>
09253226226 for Viber User <click here for link>
09253226226 - Sun Cellular
09174842809 - Globe
Click to see our other Items:
<click here for link>