Item Details
Bundle AMD Ryzen 9 7900 Processor + Gigabyte B650M DS3H Motherboard
PHP 34200.00
BRAND NEW with SHOP WARRANTY
<click here for link>
Prices:

Bundle AMD Ryzen 9 7900 Processor + Gigabyte B650M DS3H Motherboard

P 34,200.00 only



Important Reminders:
1. Prices may not be updated in ads. Please <click here for link> for updated pricelist.
2. While we make every effort to ensure consistency, our prices and stock availability may vary. You may contact us for any inquiry on items posted.
3. Please note that provided manufacturers site links & images are for reference only.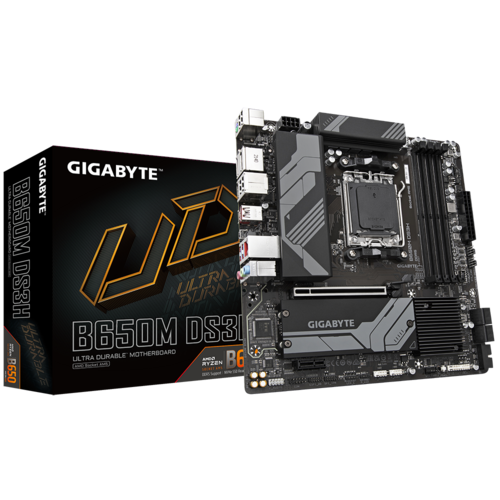 Product Description:
AMD Ryzen 9 7900 Processor
Number of Cores: 12
Number of Threads: 24
Base Clock: 3.7GHz
Boost Clock: 5.4GHz
System Memory Type: DDR5
Memory Channels: 2
Socket: AM5
Graphics: Radeon™ Graphics
Heatsink Fan: AMD Wraith Prism
Gigabyte B650M-DS3H Motherboard
- AMD Socket AM5:Supports AMD Ryzen™ 7000 Series Processors
- Unparalleled Performance:Direct 6+2+1 Phases Digital VRM Solution
- Dual Channel DDR5:4*SMD DIMMs with AMD EXPO™ & Intel® XMP Memory Module Support
- SuperSpeed Storage:2*PCIe 4.0 x4 M.2 Connectors
- Advanced Thermal Design & M.2 Thermal Guard:To Ensure VRM Power Stability & 25110 M.2 SSD Performance
- PCIe x16 EZ-Latch with Quick Release & Screwless Design
- Fast Networks:2.5GbE LAN
- Extended Connectivity:2*DP, HDMI, 2*USB-C® 10Gb/s
- Smart Fan 6:Features Multiple Temperature Sensors, Hybrid Fan Headers with FAN STOP
- Q-Flash Plus:Update BIOS Without Installing the CPU, Memory and Graphics Card
stock code - 4512djwi

Skype ID: pcmasteronline
Viber: 09328726787
WhatsApp: 09328726787
Sun Cellular: 09328726787
Globe number: 09760400474
<click here for link>
for complete product listing.